Every once in awhile my husband and I like to play around with light bondage. I am not really a scarf wearing kind of girl, so we need something different. Recently, I was able to try a pair of cute
wrist cuffs by PHS International
.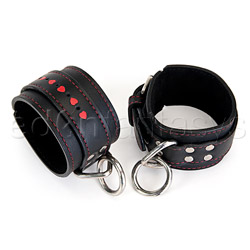 I really like the black with small red heart inlay design, in fact as a gothy kind of girl I probably wouldn't mind wearing these outside of the bedroom. The red stitching is also a nice touch. These little touches make these nice and feminine, toning down the severity of most serious cuffs (as opposed to the fuzzy handcuffs, etc.).
They are easy to put on and tank off with the belt buckle style closure. And unlike ropes or other restraints, they apply even pressure that won't increase with straining. This is good because your hands won't lose circulation. Also, the edges are "turned and sewn" which keeps the edges from being rough and causing chafing. The ring seems rather sturdy to me, but I cannot attest to its being strong enough to restrain a very strong person (although the craftsmanship is of a high quality, so it should).
I would definitely recommend these to those who like a little bit of bondage in the bedroom, as they are a lot more comfortable than other methods. Plus, they look the part!
Eden Fantasys
have a lot of other options for your
bondage and fetish
needs, of course if you like things "vanilla" there are options there for you too! Thanks again Eden Fantasies.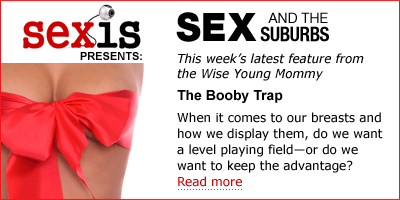 This week on Sex and the Suburbs, the Wise Young Mommy discusses the power of boobs. Which makes me think of that cheese commercial, behold the power of boobs!