Today on Hump Day Reviews, I want to share with you a wonderful toy I was able to try thanks to
Eden Fantasys
called the
Lovemoiselle Noemie
!
The first thing that struck me about this product is the fact that it is hypoallergenic! Some of the plastic toys I have used have left an EXTREMELY unpleasant burning sensation so I am trying to switch to toys that are body-safe like glass, ceramics, and steel.
When I actually received this in the mail, it was packaged beautifully in a lovely secure black box that had an open window to show the gorgeous design on the
dildo
itself. The dildo is a bright white with a nicely stylized purple flower on it. If this could stand up independently it wouldn't be something I would be adverse to displaying.
The surfaces are smooth with a soft curve, this is definitely something for those who like things simple. It is slightly glossy which adds to its beauty. It is made of ceramic, which like I touched on earlier, makes in safe for the body. It is non-porous and you can sterilize it. While you may be concerned about it being too delicate for use, it is sturdy enough for normal use. Just don't let it throw it around or drop it on the floor. Be sure to keep it in the pouch that is included for safe "soft" keeping.
This can be easily washed with soap and water, although if you would like to share it, you can easily sterilize it. Because it is so smooth you really only need to use a drop of a either a silicone or water-based lubricant.
I really loved the
Noemie
, I enjoyed the beauty of it and using it! Looking at it was honestly as much of a joy as using it. This is great for temperature play as ceramic seems to hold temperatures for awhile. Just be sure to increase or decrease temperatures gradually as it could crack your Noemie.
In summary, this is a lovely "green" dildo, that is great for just about anyone! Thanks so much Eden Fantasys for the opportunity to try this work of art!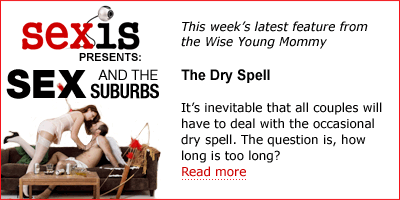 Also, be sure to check out todays Sex and the Suburbs! We have all been thru the dry spell and I know I could use some advice for the next time it happens!