I have always wanted to have one of those power tool
vibrators
, meaning one powerful enough to need to be plugged in. I was not disappointed in the
Miracle Massager
! This thing has ridiculous amounts of power, while initially intimidating I was able to warm up to it quickly. It is also nice not having to worry about battery power when you are trying to have some fun.
The
Miracle Massager
is black with a red power switch and the massager itself is red. It is smooth while still maintaining enough texture to remain easy to hold on to. The handle is contoured to allow for a firm and comfortable grip. The cord is about 6 feet long, which was pretty short for me, so I would recommend using an extension cord. The head is flexible which allows it to be moved in just about any position you would like.
The design itself would be easily mistaken for a back massager, which is a bonus, as it is pretty hard to find somewhere to store this for me. I think it could actually work as a back massager too. The California Exotics logo could be a tip off for those in the know though.
It has two settings of high and low (while both are pretty intense). I would prefer it if their were more speed choices but it is still awesome regardless. Also, I should mention that you may expect this to sound like a jackhammer, but it is much more quiet than I expected.
This toy was definitely of the intensity I was hoping to get with a plug in toy. I would definitely recommend it! Although it does require a bit of getting used to, the short cord (and having a cord itself) are worth getting used to!
Thanks again to
Eden Fantasys
for the opportunity to review this product.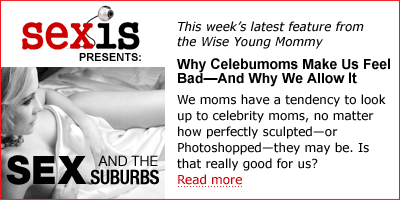 Today's article from the Wise Young Mommy is about celebmoms and their "perfect" postpartum bodies. We tend to forget the diet called photoshop or the fact that these ladies spend 5 hours a day working out instead of reveling in new motherhood.
Magazines and various other forms of media have poisoned society to the skewed view that women lose all their baby fat mere weeks after having their bundles of joy, and that just isn't true. Empower yourself and your self esteem! Mommies are beautiful!