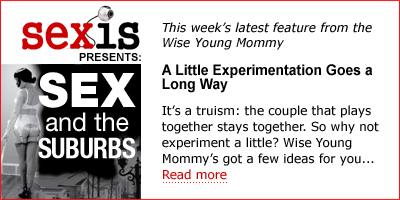 Wednesday is the day for Hump Day Reviews, as well as Sex and the Suburbs! Sex and the Suburbs is a weekly column on Sexis (authored by the Wise Young Mommy)!
This week the Wise Young Mommy, discusses experimentation and how to dip your toe in the waters to revving up your sex from the hum drum missionary to extraordinary.
This is a woman after my own mind, who isn't afraid to mix things up to keep the passion flowing!
Get some ideas on how to amp up your sex routine, from butt play to BDSM (Lite) it all sounds fun to me!