On today's Hump Day Reviews, I am sharing with you the
TantraBeam
. This has very quickly made its way to our list of favorite toys.
The premise is simple, but it is like no other vibrator that I know of. The battery (2 AAA) housing and vibration control straps to your wrist, while the actual vibrating piece attaches to your finger. Allowing you all the joys of a vibrator with the added bonus of your hand being flexible and actual warm skin to skin contact. I was honestly very surprised to see that this product was only 27.99, as I would expect to pay twice that for such a novel and great concept.
The variety of uses for this is awesome! You can use this while flying solo (great for men too) and while doing some foreplay, or doing some manual stimulation while having sex. It is really unobtrusive so it will fit just about anywhere your hand will, opening up a world of possibilities for playing.
This came in a gold shimmery bag that housed the discreet (aside from the name on the case) slimline case as well as an extra wrist and finger strap (these are smaller than the standard straps). When you open the case you see the surprisingly small and very science fiction looking
TantraBeam
(and 2 AAA batteries).
This is really a simple concept, strap the larger piece with the wrist strap to your wrist, this includes the On/Off button and a slider that allows you to change the intensity of the vibrations. The straps are velcro which allow you to quickly put on and take off.
When you strap everything on and get going it is an awesome sensation because standard vibrators are well plastic, to experience vibration and skin combined is definitely an awesome feeling. It is as mobile as your hand and as versatile as your hand.
Caring for this is easy as well, you just need to wipe it down with soapy water and the straps are removable for cleaning as well.
I have never experienced a sex toy that I can find so little to complain about as this one (my only complaint is it makes my hand feel weird after extended use but standard vibes do the same), and this is definitely one that I plan to use quite often. The simplicity of use as well as the sophistication of the design are certainly bonuses. I have used it multiple times since I received it (as well as the husband), we give this out seal of approval!
Thanks
Eden Fantasys
for the opportunity to review this product, check out their other awesome
vibrators
! Come back next week for a new Hump Day Reviews!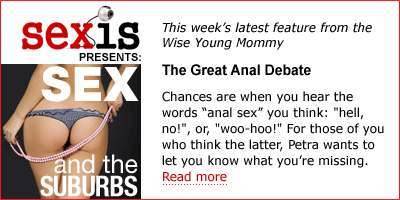 Wednesday is also the day for Sex and the Suburbs, this weeks is about anal sex and what you might (or might not be missing). I found it very funny and informative! Check it out by clicking on the Sex and the Suburbs image above!