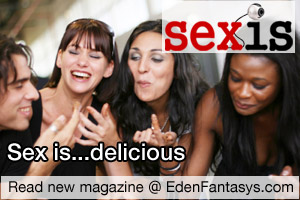 Today on Hump Day Reviews, I want to talk a little about
Sexis
the Online Magazine brought to you be
Eden Fantasys
. I really looking forward to reading every article, most of them are informative (without reading like a medical study) and funny! Let's face it sex is funny. If you don't have a sex story that still makes you laugh, you must be a virgin!
Today, I read an article on Breasts called
Keeping A-Breast of Things
that dispels some common misconceptions about one of our major erogenous zones, speaks of the obsession with breasts in our society, and touches on sex toys that are made for breasts.
Whether you made the decision to breast or bottle feed, odds are your breasts were a big part of your entry into motherhood. Odds are when you were pregnant, you had colostrum towards the end of your pregnancy. I remember worrying about it so much I picked up the book I liked to call "What to worry about When You Are Expecting" and made sure that it was normal because I heard that discharge was a sign of Breast Cancer.
In the first few days, you probably experienced engorgement, nipple pain, and if you breastfed you might have felt like me and wondered "if this is so natural, why is it so hard!" Perhaps, your husband was like mine and found lactation sexy. It took a long time to think of my breasts as multi-taskers when I was breastfeeding. When the day came to a close, my breasts were all "touched-out" and I couldn't look beyond the whole these are suppliers of food angle.
Now that my youngest weaned herself, I miss that bonding time we had. She still has what she calls her booby pillow (Boppy) and sleeps with that, but now she doesn't need me to hold her and nurse her to sleep anymore and that is sad for me.
Breasts are multi-purposed for sure! They make great pillows for kids or your husband, when my youngest needs comforting she goes straight for laying her head on them, and same with my husband really. You can use your cleavage to hold a drink or something (don't judge me, I only have so many hands and I need two to buckle in Audra!), who hasn't tucked a few dollars in your bra for safe keeping.
Also, in reading this article I learned that there are sex toys for breasts (which I was surprised because when I think of sex toys I think of below the belt stuff) other than
nipple jewelry and clamps
, etc. I thought breast play was normally geared towards S&M stuff. They do have gentler options (such as the
Breast Stimulator
and
Heart Shaped Breast Massagers
). So, I found something new to try some time!
What about you ladies? How do you feel about your Breasts? Like them, hate them, or are they just there? What did you think about the article?
You can access
Sexis
and its articles via the keyword links in this post, or by clicking the
Sexis
banner on the left hand side. Once again thank you for stopping by Hump Day Reviews, every Wednesday. Thank you to Eden Fantasys for all the fun things to talk about!