GIVEAWAY CLOSED

When you were young, did your Mom ever leave little notes in your lunch box? Well, these loving messages have come a long way thanks to Kids Fun Cards.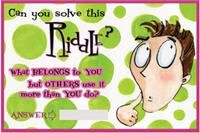 From the site: "KidsLunchBoxCards are a super-fun alternative to the humdrum lunch-time napkin note. They revolutionize communication between moms and kids at that vulnerable ime during a long school day. A special note that says…I'm thinking of you."

Stop by An Island Review to see how to get your chance to win an entire set - 5 packs of 5 cards each - to one lucky winner.
CONTEST ENDS SEPT 8TH AT 11:59PM

At The Giveaway:
Today's Female Giveaway is for your choice of any
Blush Topless Undershirt
! ($15) They are made for everyone, whether you are pregnant or not, this shirt will help keep you covered.

Stop by The Giveaway and see how you can enter for your chance to win!



CONTEST CLOSED

And at the Opinionated Parent:




For the school aged child, the Allerhand Backpack also available from
Oompa
is pretty much perfect. It's also available in three colour schemes so there's something for every taste. It features five zippered pockets and lots of pouches for all of the necessities and wanna-haves, a waterproof splash bag to keep wet things in or out, a thermal sleeve to keep drinks hot or cold, a padded back and two padded straps for comfort, and a reinforced handle for easy & secure locker or coat hook hanging.
If you would like to win an Allerhand backpack in your choice of colour from
Oompa
Toys, stop by
The Opinionated Parent
and see how!